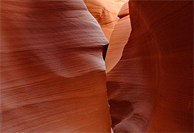 Rich and natural tones speak to the organic charm of sandstone, while the polished rock surface simply takes your breath away.
Sandstone is a clastic sedimentary rock composed mainly of sand-sized minerals or rock grains.
Formation
They are formed from cemented grains that may either be fragments of a pre-existing rock or be mono-mineralised crystals. The cements binding these grains together are typically calcite, clays, and silica.
Sandstone is formed when layers of sand accumulates as the result of sedimentation either from water (like a stream or lake) or from air (like a desert). Sedimentation occurs by the sand settling out from suspension. Once it has accumulated the sand becomes sandstone when it is compacted by pressure of overlying deposits and cemented by the precipitation of minerals within the pore spaces between sand grains. The most common cementing materials are silica and calcium carbonate which is often derived either from dissolution or from alteration of the sand after it was buried.