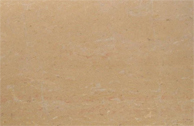 Limestone is a sedimentary rock composed largely of the minerals, calcite and aragonite, which are different crystal forms of calcium carbonate. Like most other sedimentary rocks, limestone is composed of grains; however, most grains in limestone are skeletal fragments of marine organisms such as coral or foraminifera.
Limestone makes up about 10% of the total volume of all sedimentary rocks. Most cave systems are through limestone bedrock. Limestone often contains variable amounts of silica and varying amounts of clay, silt and sand carried in by rivers.
The primary source of the calcite in limestone is most commonly marine organisms. Some of these organisms can construct mounds of rock known as reefs. Below about 3,000 meters, water pressure and temperature conditions cause the dissolution of calcite to increase nonlinearly, so limestone typically does not form in deeper waters.
Because of impurities, such as clay, sand, organic remains, iron oxide and other materials limestones exhibit different colors.